Specialists in Quality Innovation Investing
Updated investment philosophy and process to focus exclusively on quality innovators
Structured to navigate a world of rapid change driven by innovation, which has never been more important for long-term investors
Always a Boutique
Boutiques have clear advantages over larger firms with cohesive teams that are often more tight-knit, collaborative, and agile
Institutional-class firm with experience: Four of the firm's team members worked together at (and helped build) another successful tier one concentrated growth manager
Committed to avoiding the "curse of size" experienced by larger firms by limiting AUM so we can go earlier on the S-curve and own emerging and mid-stage innovators
Risk-Managed Approach
Fervently anti-hype by systematically avoiding concept stocks and focusing on innovations ready for mainstream adoption that meet a stringent set of quality criteria
Risk management and guardrails are integrated throughout the investment process
Team has Deep and Broad Experience Across Key Functions
Evolutionary Tree has brought together a team of key professionals who previously worked together at a tier-one investment firm across portfolio management, research, and operations functions. Team members have a history of working together and are committed to the mission.
The Founder, Chief Investment Officer, and Portfolio Manager, Thomas Ricketts, CFA, has over two decades of concentrated growth-oriented investment experience. During his 22-year tenure, he helped build a successful tier-one concentrated-growth asset manager, and served as Sr. Co-Portfolio Manager of the firm's $20 billion flagship growth fund for 8 years. Rounding out the three-person investment team, he is joined by a Research Analyst, who worked with him on the research team at the prior firm and earned his CFA designation, and an Associate Research Analyst. 
The Director of Operations, Erin Price, worked with Mr. Ricketts at the same previous investment management firm. She built and managed the back-office operations at this firm during her 17-year tenure. She has over 25 years of operational experience.
Committed to Building an Institutional-Class Concentrated-Growth Investment Boutique
The founding principal has committed significant capital to fund and build the business over many years, enabling the firm to build a quality team and make the required investments in institutional-class resources and infrastructure.
We believe a boutique structure and a special culture enable our team to deliver on the mission over time.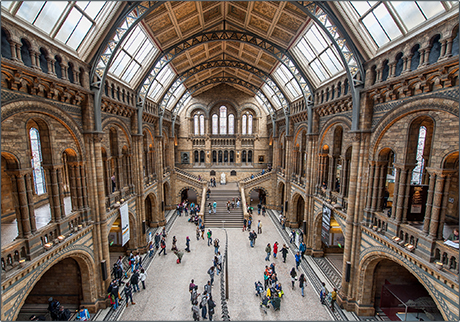 Dubbed the "Cathedral of Nature," this is the central hall of the British Natural History Museum in London.