Mission Statement
Connect clients to leading innovative businesses with the potential to drive wealth creation over the long term
Provide long-term perspective, thought leadership, and beyond-the-call-of-duty service
Evolutionary Tree was founded on a vision to apply an innovation and evolution-focused framework to concentrated growth investing. We believe the development of innovation and its resultant pattern of evolutionary change is the primary engine of growth for companies, industries, and the economy. With products and services - and their underlying technologies and business models - evolving at a faster rate than in the past, we believe an updated investment philosophy is needed.
Combining his over two-decade experience investing in innovative growth companies and an extended sabbatical, Mr. Ricketts developed a unique philosophy we call Evolutionary Investing. In-depth research into the history and development of many different technologies and industries during Mr. Ricketts' sabbatical became the foundation of our primary belief that Innovation + Evolution = Opportunity. As the pace of innovation continues to accelerate, we believe these new evolutionary principles and the unique framework we have developed will become more important to identifying and understanding how innovation creates and drives growth for portfolio companies and, in turn, wealth for clients.
We drew inspiration for the company name and logo from Darwin's well-known "Tree of Life" sketch (see image) from his 1837 notebook developed after his pathbreaking exploration sailing on the HMS Beagle. The Tree of Life is also known as the first evolutionary tree diagram, and is considered one of the most important diagrams of all time, influencing how we view the world. We believe this metaphor can be used as a foundation for a new way of viewing how business and the economy unfold and opportunity is created.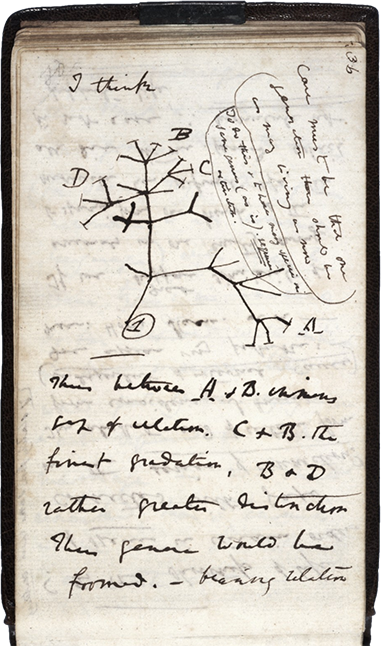 This is Charles Darwin's Tree of Life sketch from his 1837 notebook, illustrating how species evolve and branch over time. It is considered one of the most important diagrams of all time, and one that we used as inspiration for our name and logo.